Hartley-Melvin-Sanborn Elementary School
Principal: Bill Thompson
240 First St. SE
Hartley, IA 51346
Phone: 712-928-2020
Hartley-Melvin-Sanborn High School
Principal: Mark Petersen
300 N. Eighth Ave. W. (Highway 18)
Hartley, IA 51346
Phone: 712-928-3406
Hartley-Melvin-Sanborn Middle School

Principal: Mark Dorhout
509 Main St.
Sanborn, IA 51248
Phone: 712-930-3281
Sanborn Christian School
405 W. 2nd St
Sanborn, IA 51248
Phone: 712-729-3288
Sanborn Christian School is a parent-controlled school that offers quality Christian Education for children whose parents believe that God is the Lord of the universe and our lives. Christian Education presents a God-centered pattern for living. It is a wholehearted commitment to the proposition that all things are from God, through God, and unto God. From this basic declaration arises the existence of Christian Education at Sanborn Christian School. It colors and controls all the various factors that make up the educational process for preparing and educating the whole child. Sanborn Christian School offers education from a Christian perspective by Christian teachers* to students in grades preschool through eight grade.
*All faculty is certified by the Iowa Department of Education.
*Sanborn Christian is accredited by the State of Iowa and Christian Schools International (CSI).
If you would like more information about SCS for your child, please call the school office or speak to any of our staff, parents, or board members.
sanchr@sanbornchristian.com - Administrator - Anthony Minderhoud
secretary@sanbornchristian.com - Secretary- Lindsey Koldenhoven
bookkeeper@premieronline.net - Bookkeeper- Adrienne Reitsma
Learning Tree Preschool
Kathy Wright-Director
102 Prospect
Sanborn, IA 51248
Phone: 712-930-3251
Learning Tree Preschool provides an opportunity for children to learn and develop through a variety of learning experiences and play. Children must turn 3 or 4 by September 15 to qualify. The 4-year-old program is Monday, Wednesday & Friday 8:00-11:30. The 3-year-old program is Tuesday & Thursday mornings 9:00-11:30.
Kid's Express & Learning Tree Preschool
Kathy Wright-Director
102 Prospect
Sanborn, IA 51248
Phone: 712-930-5535
Kids Express Daycare believes that every child is unique and valuable. We provide a safe and loving environment that is developmentally appropriate. We care for children from 2 weeks to 12 years old. Kids Express is a non-profit corporation. We are licensed by the Department of Human Services. Our hours are Monday - Friday 5:45 am - 6:00 pm
Sanborn Public Library

Alvina Reitsma
407 Main Street
Sanborn, IA 51248
Phone: 712-930-3215
Fax: 712-930-3170
http://www.sanborn.lib.ia.us/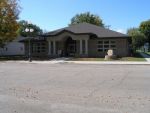 Library Hours:
Monday: 11:30 - 7:00
Tuesday: Closed
Wednesday: 11:30 - 7:00
Thursday: 11:30 - 5:30
Friday & Saturday: 8:30 - 12:00